Wooden Pallets and Euro Pallets Delivered UK Wide
Suppliers of heat treated wooden pallets and euro pallets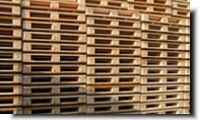 At palletz.co.uk we deliver wooden pallets uk wide including, Swansea, Llanelli, Cardiff, Bristol, London, Plymouth, Manchester and anywhere else in the UK. Welcome to Palletz.co.uk. We are classed as the "Super Depot" for all of the Wooden Pallet Manufacturers around the whole of the UK, Wooden Pallets are almost used in every type of industry in the Uk today, Our Largest Manufacturers comprise of Pharmaceutical companies, food, drink, chemical, steel, tinplate,aluminum and Insulation, over the last few years our company has Installed 4 new automated pallet lines, because of the growth and competitiveness of our company, we have also become licensed manufacturers of Euro Pallets. And are already distributing around 20,000+ per month and new customers being added all the time due to "word of mouth" of our Quality and Price. We believe as a company we cannot be beat on the quality of our wooden pallet`s and Euro Pallet prices, we have several kilns on site for all of our Ispm 15 and Kiln Drying and as a company we all look forward to welcoming new customers just to prove how good and competitive we are.


Give us a ring today and discuss with some of the most experienced pallet sales personel in the uk today what you are looking for, from your standard sizes to your bespoke sizes we can manufacture whatever you want. If your looking for Recycled Pallets Leeds then please try our sister company for some very competitive prices.. They are also doing Heat Treated Recycled Pallets at the majority of our satellite depots around the UK.
PHONE - 07518 672676 - TODAY



New In Stock Euro Pallet Collars and Euro Pallet Collar divider sets.